Dreams and Divinities in collaboration with
Mission Control-Holofonic Sound & Bash Contemporary Gallery presents 
"The Garden of Fernal Delights"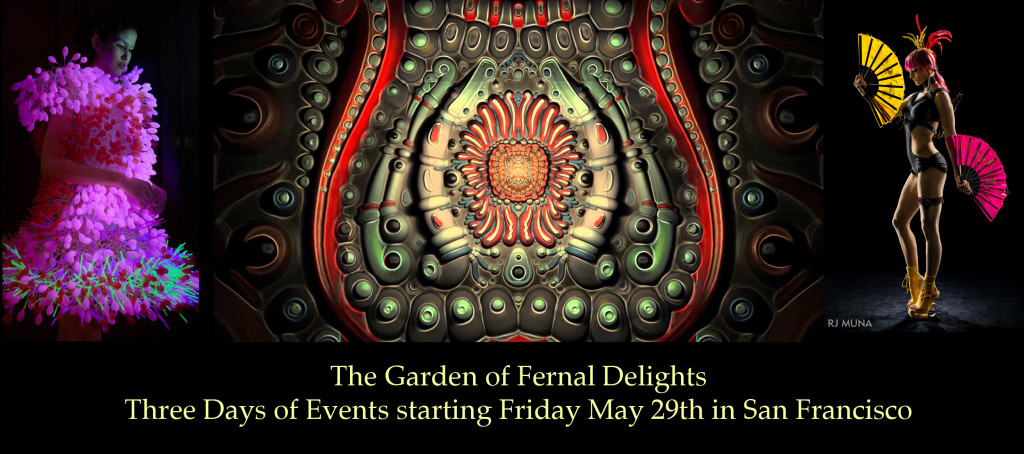 The Fernal launch begins on May 29th with a grandiose
Costume Ball

at Space 1970 in the Mission.
Doors open at 7:30 pm with a welcoming speech by Liba WS and Ben Stokes at 8:00 pm
8:30 pm – Acrobatic Cabaret performance by Featherpistol and friends
–
9:30 pm – Audio Visual performance by Dimensional Holofonic Sound.
Sample reel:
10:30 – Bay Area Belly Dance Talents
   
11:15 pm – 3:00 am
DJ PJ & DJ Mophono  /   Video Jockey Ben Stokes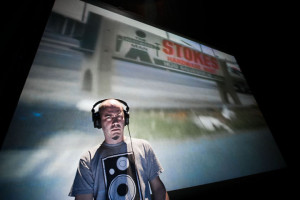 Psychedelic video loop by Ben Ridgeway with flute solo by Linda Michelle Hardy
Sample of his work:
-Live Painting with:
(in alphabetical order)
Aloria Weaver
Carrie Ann Baade
David Heskin
Kathleen Stutler Schmieder
Kathryn June Amorastreya
Mark Henson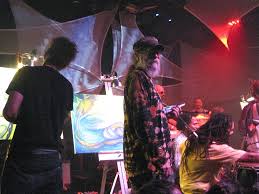 Sliding scale 7 – 10$ at the door with
Donation Hats for the cabaret and belly dancers.
Space 1970:
1970 Harrison St
San Francisco CA. 94103-4229
cross street is 16th st.
Saturday May 30th
6:00-9:00 pm
at Bash Contemporary Gallery
Launch for the Fernal exhibit of 38 International Artists
Launch for the Encyclopedia of Fernal Affairs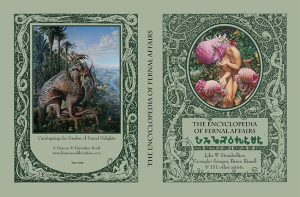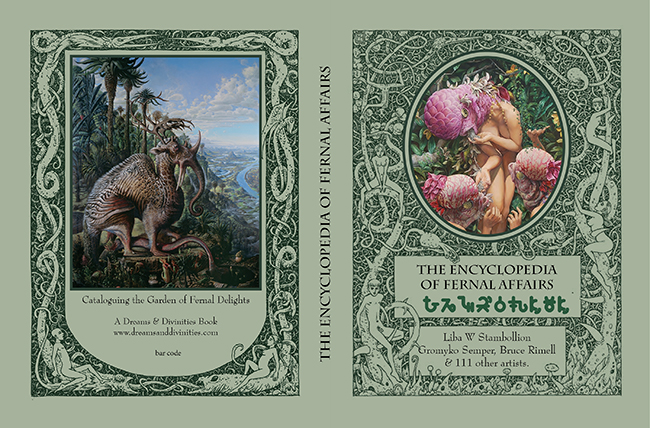 See more details here: www.dreamsanddivinities.com/2014/11/launch-for-the-garden-of-fernal-delights/
Sunday June 1st
Sunday May 31st
2:30- 3:15 pm
Bruce Rimell does a presentation on
his invented language "Fernalese"
3:30-4:00 pm
Artist – Professor, Carrie Ann Baade presents:
"The Critic and Kitsch: Another look
at Narrative Art in the 20th Century."
4:30 -5:30 pm
– Short music-art video: Artemis Seven produced & directed by Neirika. Filmed by cinematographer Reed Rickert
 -Short film on Dreams and Divinities by Vincent Gallet
BASH Contemporary Gallery
210 Golden Gate Avenue,
SF, CA 94102
Tags: concerts, events, exhibitions, Fernal Garden