The Encyclopædia of Fernal Affairs
or Scroll down for the listing of Resellers
The Encyclopædia of Fernal Affairs
Cataloguing The Garden of Fernal Delights
Full colour 245 page art book with printed endpapers.
Designed & Produced by: Liba W Stambollion
Curated by: Liba WS and Gromyko Semper
Written by Liba WS and Bruce Rimell,
Fernalese Language by Bruce Rimell
Artwork and writing from 114 artists
Some pages from the book:
If you want to know more about this book including: project description,  
artist list, the language Fernalese & shows please CLICK HERE
*************
DIVINING THE DREAM
or Scroll down for the listing of Resellers
173 Pages, full color, hardback book
61 artists and 26 poets take a turn around the Wheel of the Year.
Artists and Poets: http://www.dreamsanddivinities.com/artists/
A few pages from the book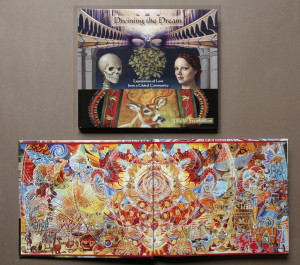 If you want to know more about this book (description, shows etc) please CLICK HERE
Dreams and Divinities Books are also
available through:
FRANCE
Matahati Gallery
26 rue St Ambroise
75011 Paris
01 58 30 77 20
Museum Halle St Pierre
2 rue Rosnard
75018 Paris
Musée de l'Art Moderne
11 Avenue du Président Wilson,
75116 Paris
Gallimard
15 Boulevard Raspail
75007 Paris
01 45 48 24 84
Le Monte en L'air Bookstore
2 rue de la Mare
75020 Paris
Centre Pompidou Museum Bookstore
Place Georges-Pompidou,
75004 Paris
Maison Rouge Bookstore
10 boulevard de la bastille,
75012 Paris
Les Mots a la Bouche
6, rue Sainte Croix de la Bretonnerie
75004 Paris
Tel : 0142788830
La Tête Ailleurs
42 rue de la Folie -Mericourt
75011 Paris
09 81 77 40 60
Naia Museum
Parc du Chateau
Rochefort en Terre
Bretagne, France
La Maison des Sources
13 rue de Brocéliande
56430 Tréhorenteuc
Brocéliande, Bretagne, France
Martina Hoffmann
Carnac, Bretagne
Contact : art@martinahoffmann.com
USA
Tru Love Gallery 
KRABJAB Studios
5628 Airport Way South, Ste 150
Seattle, WA 98108 USA
phone: 206-715-8593
Sacred Art Studio
Contact: Mark Henson
Telephone  707-275-2201
www.markhensonart.com
AUSTRALIA
Logical Unsanity Booksellers
Brisbane and Melbourne:
http://www.logicalunsanity.net/
AUSTRIA
Villa Sonne – Villasunshine Gallery
Am Corso 4
Velden am Worthersee
NEW ZEALAND
Gareth Price
Contact: 0064 21 069 6825
ENGLAND
Watkins Books
19-21 Cecil Court
London
Treadwells Bookstore
33 Store Street
London
Bookart Bookshop
17 Pitfield St
London N1 6HB
Tel: 020 7608 1333
Bruce Rimell
Sheffield
Contact: firstfox@biroz.net
MEXICO -San Miguel de Allende,
The Velvet Girl Gallery
Mercado de Artesanias
Andador Lucas Balderas local n° 10
Entre calle Hidalgo y Relox
SINGAPORE
Artesan Gallery & Studios Singapore
+65 63385818
NORWAY
Elisabeth Slettnes Gallery
tlf: 90 62 22 97
atelier@elisabethslettnes.net
PHILLIPINES – Nueva Ecija
Gromyko Semper
mykosemper@yahoo.com
044-958-4307/+639361267349
***********
SACRED EXPRESSIONS FROM WOMEN
(no longer available)
 SACRED EXPRESSIONS FROM WOMEN
120  pages of full color
13 painters and 8 poets on a quest for Love.
Biographies from the book..