Be sure to check out our Newsletter!
The Spring edition is out! (click on the image)
Dreams & Divinities is going to London this October. Keep posted for details!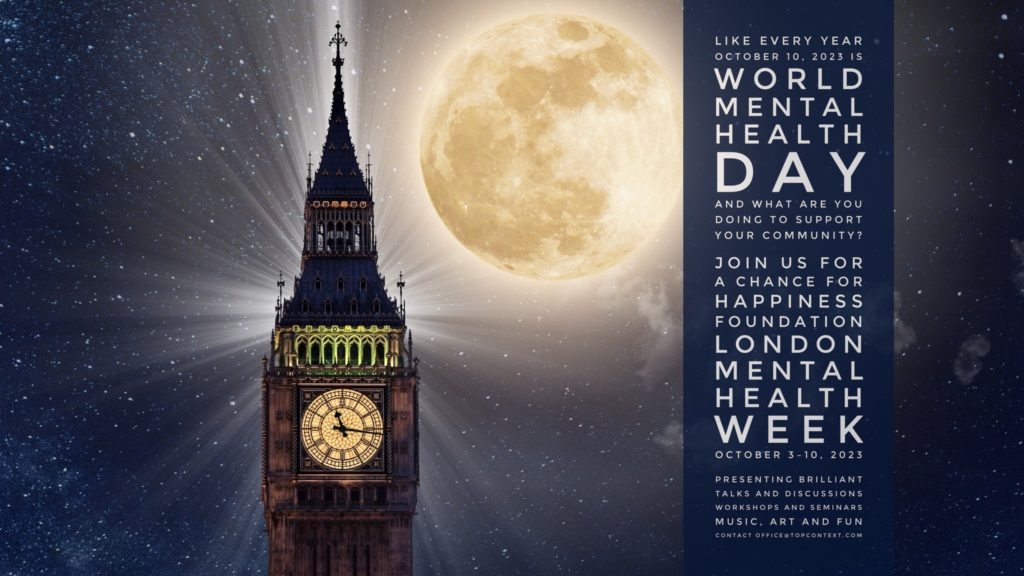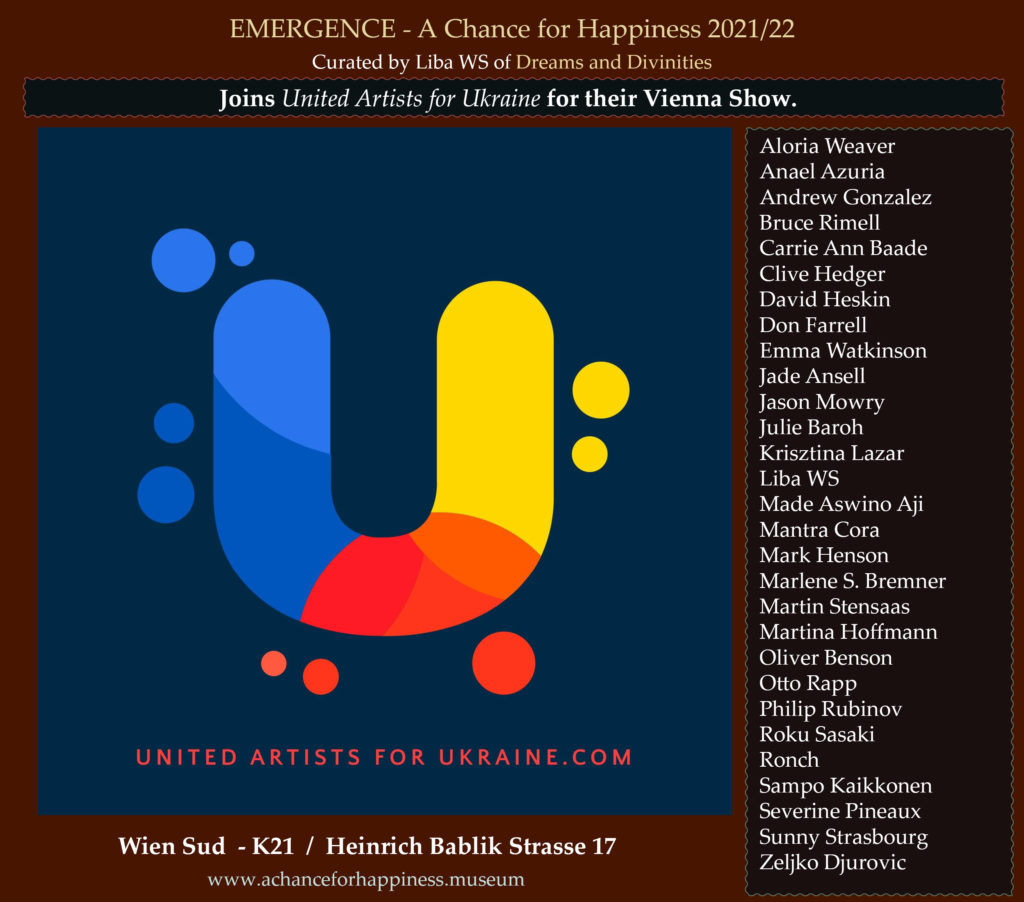 Emergence 2021 Charity Art Exhibition
LOVE Gallery is now OPEN.
Click the poster to enter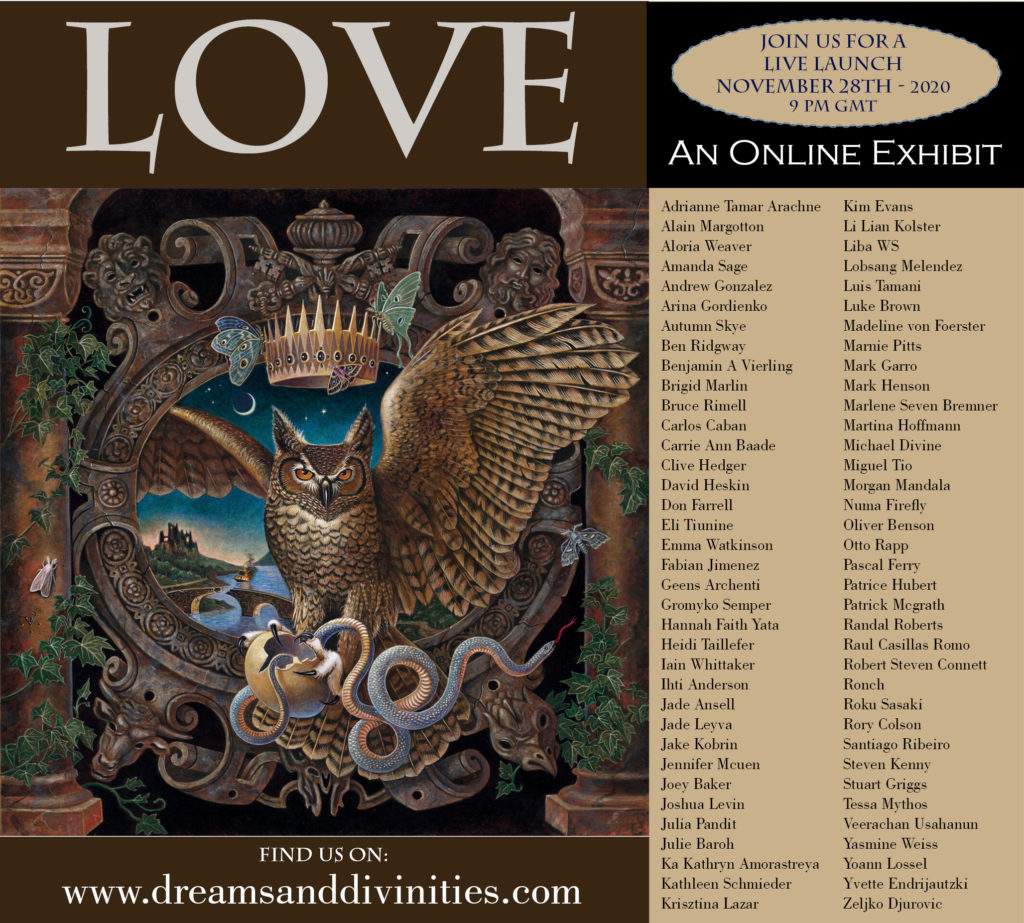 Be sure to check out our new Page: Dreamy Videos!
We even have Vincent Gallet's two documentaries on Dreams & Divinities.
Following Dreams & Divinities Mexico from Vincent GALLET on Vimeo.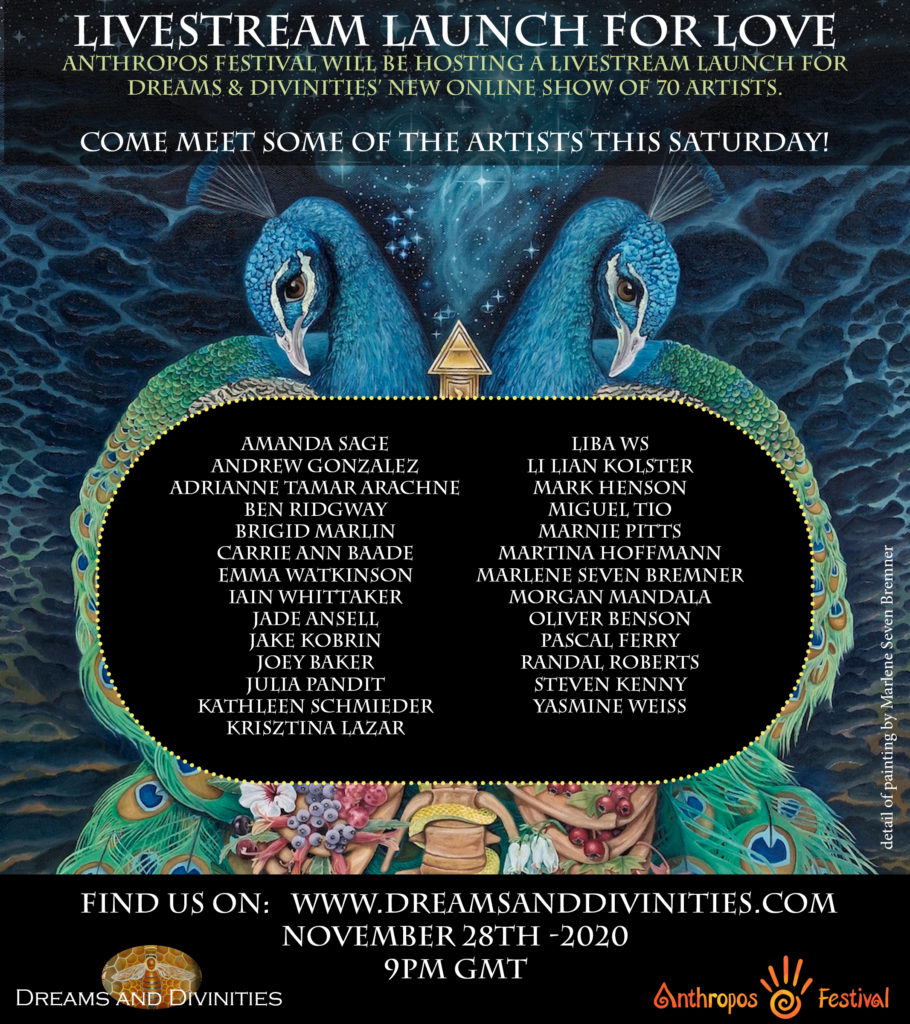 Come meet 28 artists from the show.
Anthropos Festival will livestream us right here on the site
November 28th
London 9 pm GMT
Paris 10 pm CET
New York 4 pm EST
California: 1 pm PST
Sydney 8 am
Bali 5 am
Dreams & Divinites has a gallery at Spirtfest. Coming to your screens this August 8th.
Also a presentation in the PachaMama tent !
Convergence: Art in the Age of Pandaemonia
Coming to Paris this December 2-7 2019!
Atelier Gustave – 36 rue Boissonade, 75014
The Catalogue is online! Click the link below:
https://www.yumpu.com/en/document/view/62944130/a-chance-for-happiness-pa
Coming to Girona, this May 2019!
If you are in Europe be sure not to miss this event! Details and tickets can be found on their site: 
https://www.ayaconference.com/
Clicking on the poster will get you to my blog. There is a link to the album of artwork in the blog.

Coming to Arizona, this February 2019!
Get your tickets online: https://www.arizonapsychedelics.com/

Coming to Sedan, FRANCE this October 2018!
Click on the poster to see the album of paintings.

The Deer Show 2
Coming this July fourth 2018 to the Chateau de Comper
Opening and Book fair this July 20th
Broceliande Forest
Brittany, France
Click the poster to see the album of artwork!

Coming to Paris, this May!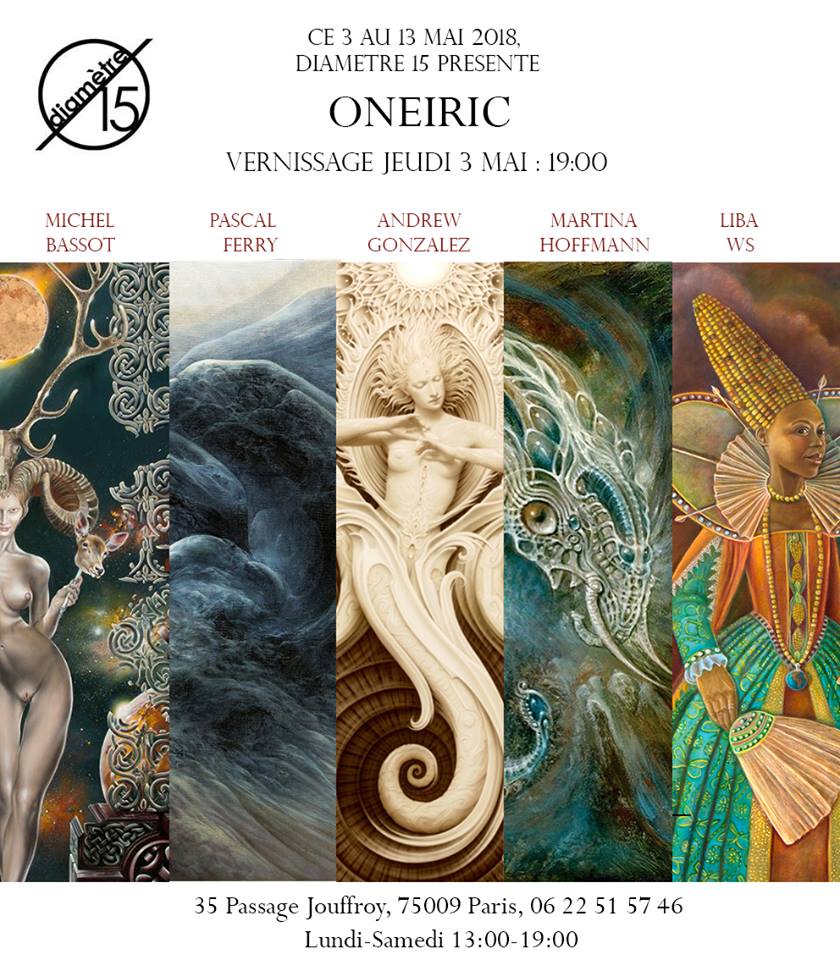 Coming to PARIS this November!
Keep your eyes peeled for the album of paintings and the facebook event!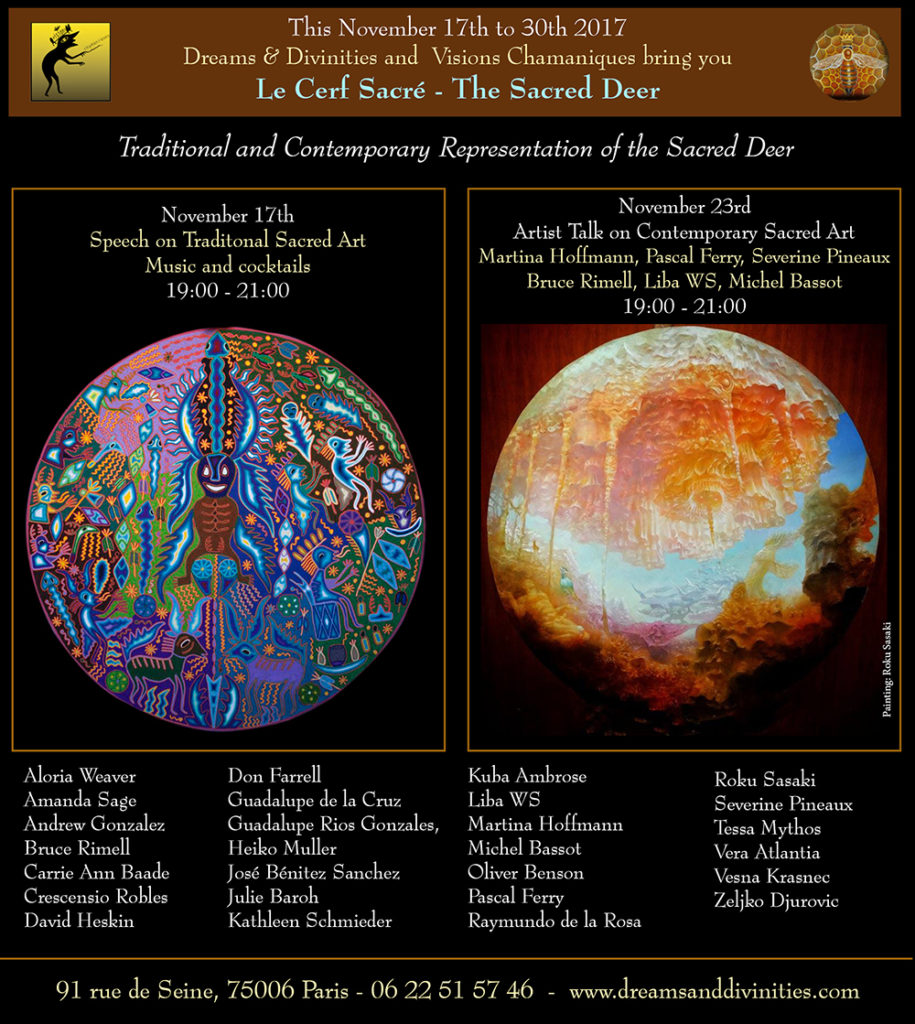 Coming to Colombia this December!
For more information please consult the autumn newsletter:
http://mailchi.mp/f01cfeb36784/dreams-divinities-autumn-newsletter?e=[UNIQID]
Up until November 5th!
A KrabJab – Dreams & Divinities Collaboration
For pictures please consult the Summer newsletter:
http://mailchi.mp/1b49cab58bc6/dreams-and-divinities-summer-newsletter?e=20ce657cdf

Angels, Totems and Revelations
Up through April 2nd at KrabJab Studio, Seattle WA
Click the poster for photos and logistics.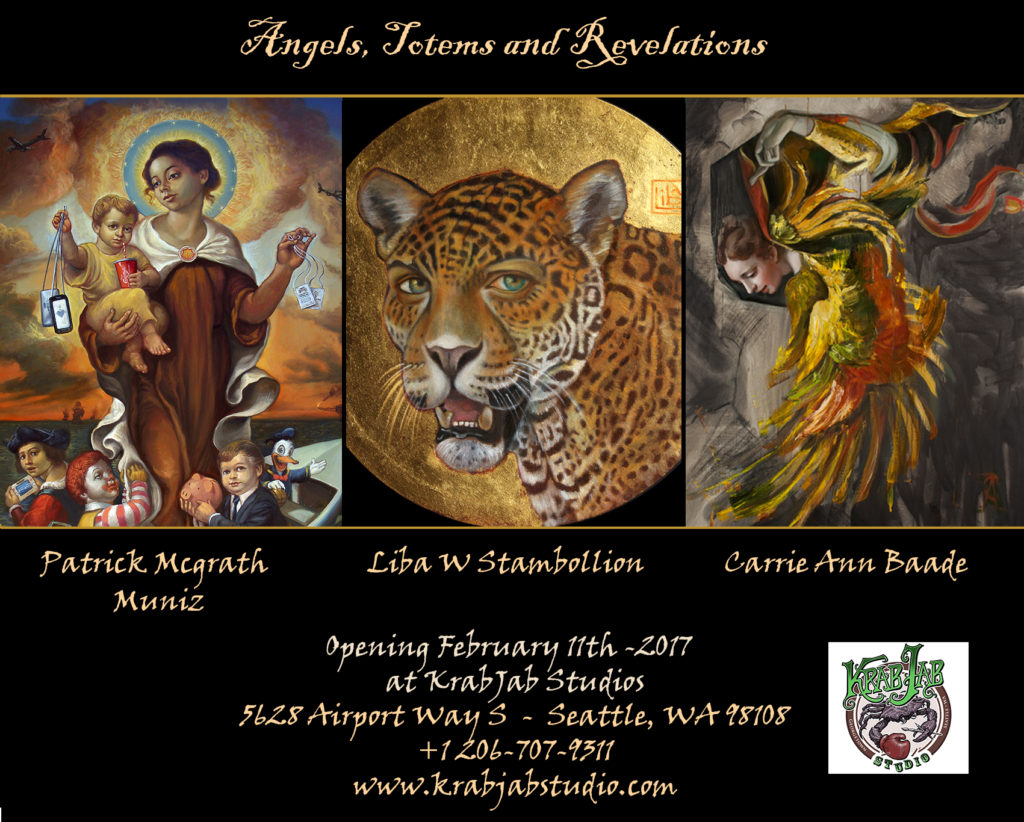 Celebration of Autumn
Samedi 15 Octobre à Paris!
Cliquez la poster pour l'événement Facebook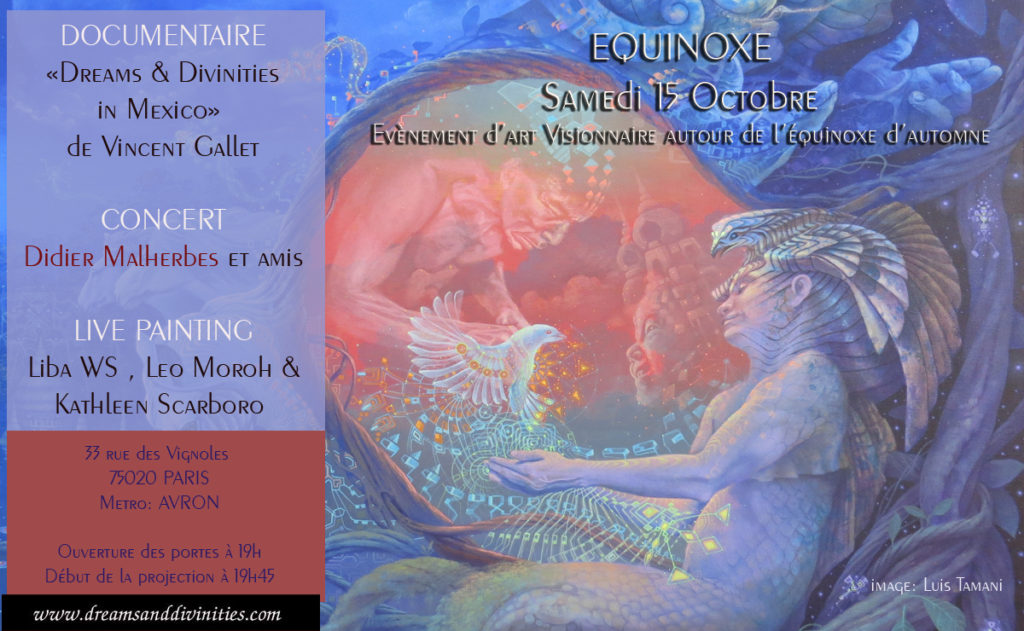 THE ART FOR PEACE TRAVELLING SHOW!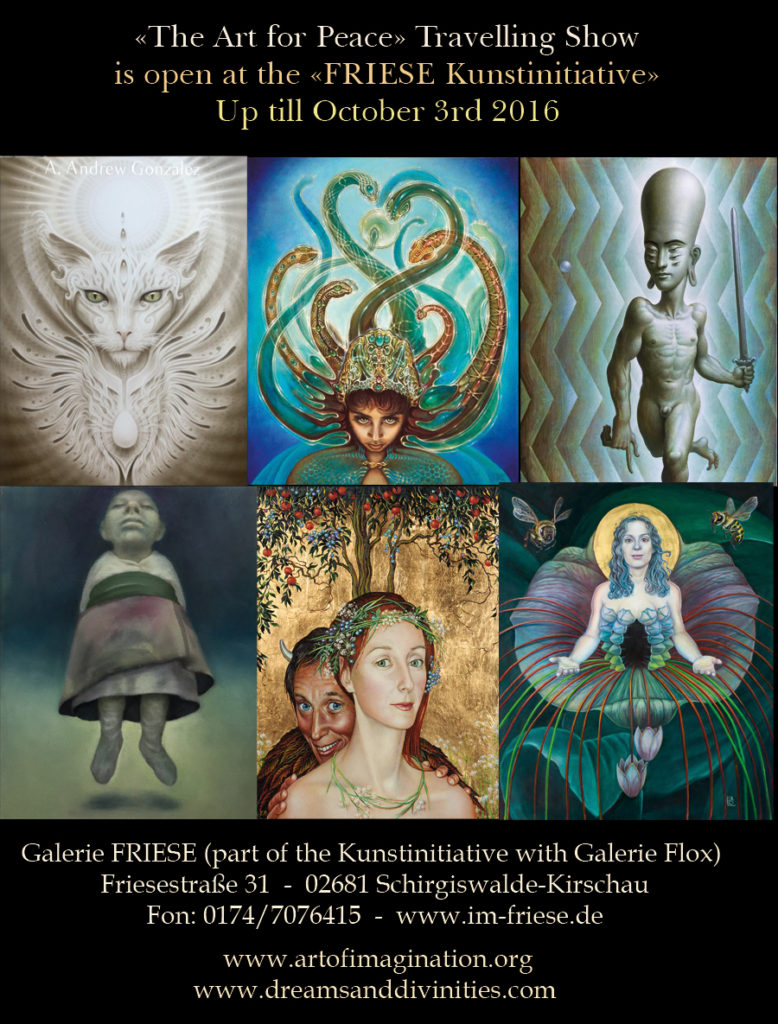 On March 22nd, 55 International artists launched the travelling Show.
Click on the poster for the album of photos
The Encyclopedia of Fernal Affairs is Available
in 10 countries and Online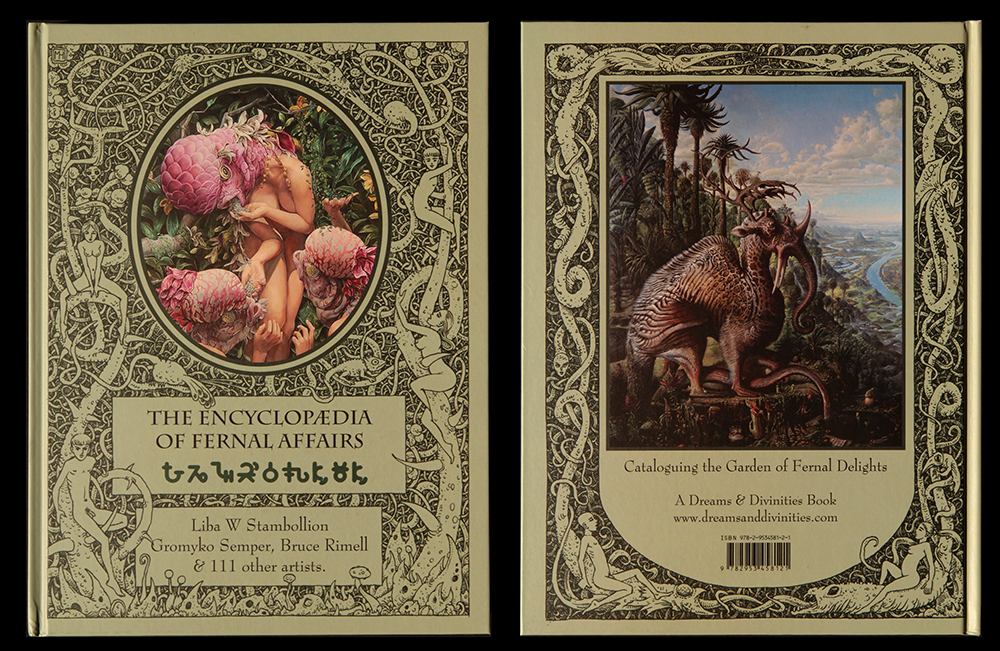 ************
Launching The Garden of Fernal Delights 
January 5th, Paris
Talk on Visionary Art and Booksigning at Solsemilla
Click banner for details
December 12th -Late February – A Fernal Solstice in Paris
Click on the Banner for images.

Images from The Book Signing and Events at The Naia Museum, July 2015:
Images from the Fernal Events at Space 1970 in San Francisco, this June 2015: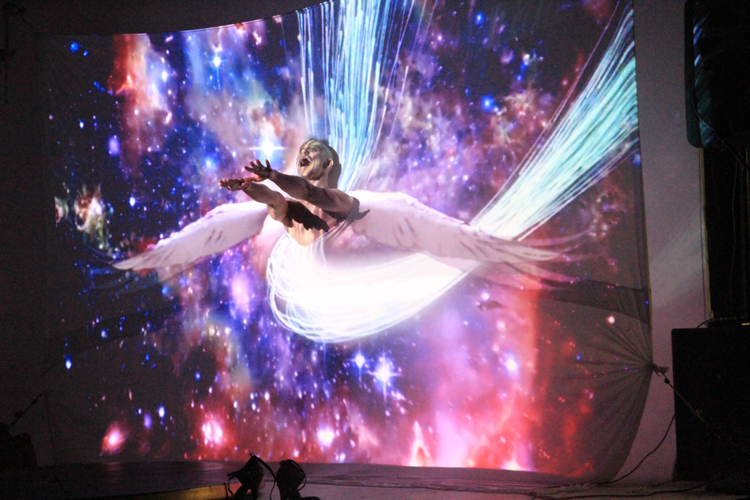 Images from the Gallery Launch at Bash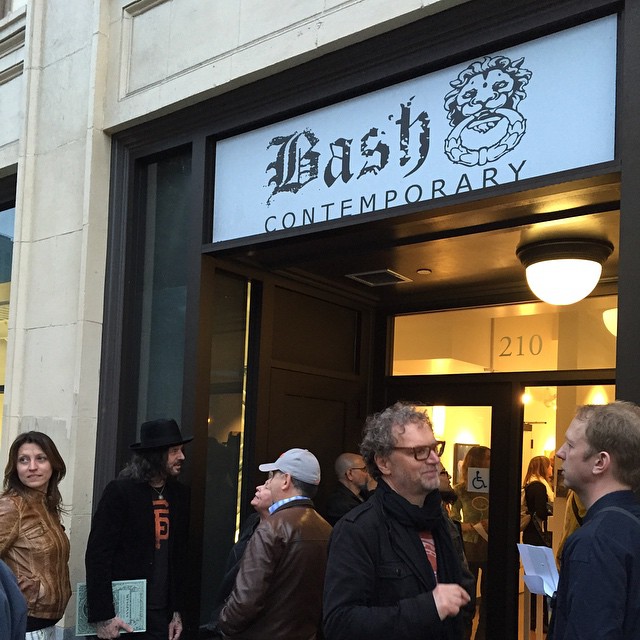 Images of the Paintings

***

 ***
A Photographic Journey of the
Divining the Dream Travelling Show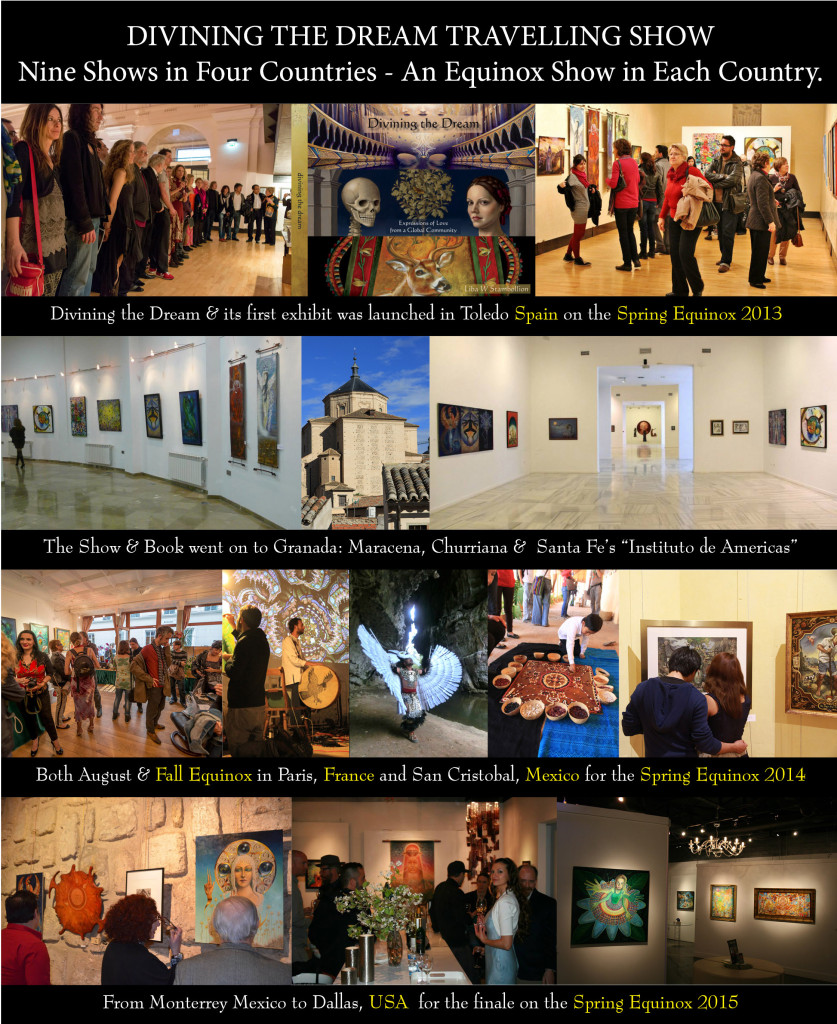 T
To Purchase a Book:
Also available in the following Paris bookstores:
The Pompidou Museum
Musée des Arts Decoratifs of the Louvre
Palais de Tokyo
Musée d'Art Modern de Paris
Halle St Pierre
Gallimard
Maison Rouge
Available in 10 countries. Find the list here:
http://www.dreamsanddivinities.com/the-book/
For Associated Exhibits be sure to check out Liba's blog on the VA: