For seven years, seven women meticulously painted the Dreams and Divinities Tarot deck. This extraordinary 78-card Tarot deck and its accompanying guidebook were inspired by visions, dreams, and an in-depth exploration of the archetypal cards, offering a fresh perspective on classical Tarot symbolism and interpretations.
Box, Guidebook and Cards!
THE DECK
Curated, designed, and produced by Liba Waring Stambollion, this first edition of 777 decks is a testament to her commitment to creating a treasure-worthy Tarot deck. The cards are extra-large and heavy, reminiscent of antique Italian Tarot cards.
Seven internationally recognized women symbolists painted the deck:
Amanda Sage
Carrie Ann Baade
Heidi Taillefer
Ila Rose
Liba Waring Stambollion
Martina Hoffmann
Viandara Elfaerian
The collaborative journey involved Viandara Elfaerian contributing to the design process. Liba's digital remixes of Amanda Sage's aces brought the 2-10 of the Minor Arcana to life. The brainstorming sessions with Carrie Ann Baade and Martina Hoffmann were instrumental in shaping the deck's unique character.
GUIDEBOOK:
Accompanying this magical deck is a guidebook that introduces the intricate connections between the oldest Hebrew esoteric text: the Sefer Yetzirah, the Tarot, and the ancient wisdom underlying them. Additionally, the booklet offers each of the 78 cards a quick reference to its divinatory meaning, seen through the lens of this perspective.
Because the minor arcana are non-figurative, the deck can also be used with other traditions.
TO PRE-ORDER A DECK, CLICK HERE or ON THE IMAGE: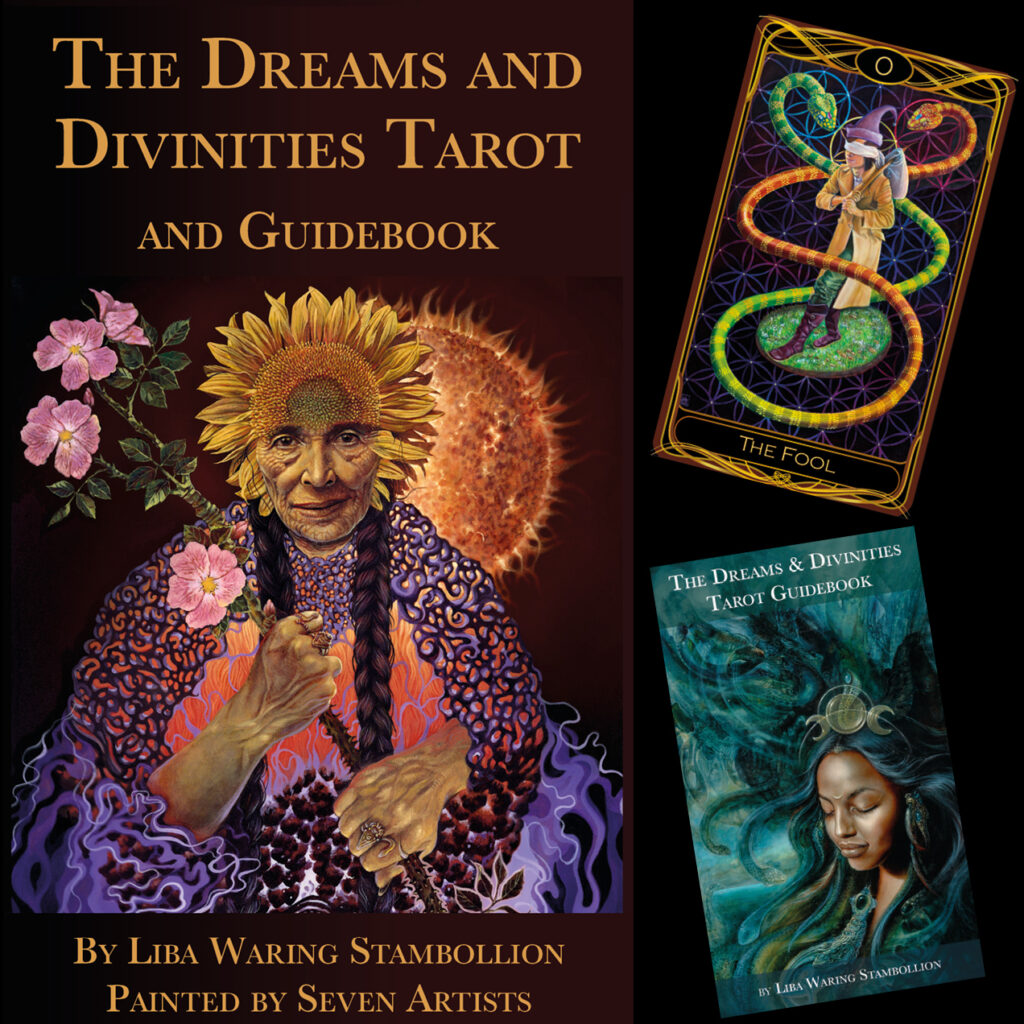 LAUNCH AND EXHIBITS.
The Dreams and Divinities Tarot deck will officially launch on December 5th at the historic Atelier Gustave in Paris, located at 36 Rue Boissonade, 75014 Paris. The original paintings for the Major Arcana, the Court cards, and the Aces will be on display for an entire week of beauty, discovery, and exchange from December 5th to December 10th. The exhibit is open to the public from 2 pm daily. The complete calendar will be posted on our website: dreamsanddivinites.com
Conferences will be in french but the music is universal!
Mardi 5 décembre à 19h – Lancement officiel
Mercredi 6 décembre à 19h – Conférence : D'où vient le Tarot ? avec Delphyne Veyrat
Jeudi 7 décembre à 18 h – Lecture collective du Tarot pour notre planète, avec Liba Waring Stambollion et Martina Hoffmann
Jeudi 7 décembre à 20 h – Concert de Nalini Blossom et amis.
Samedi 9 décembre à 19h – Concert avec Didier Malherbe (Gong, Hadouk) et Raphael Didjaman
Dimanche 10 décembre de 14h à 19h – Dernier jour pour l'exposition!