Album ONE of a series of photos on the San Cristobal show and events.
Photos compiled from various artists.
All work was non commercial and voluntary.
Thanks to Mavi Ramirez – Director of Culture and Iran Sanchez – Coordinator of Culture
for the City of San Cristobal, for hosting us in their beautiful city.
Thanks to Teresa and Sergio Rodriguez from the Hotel Paraiso for receiving all our paintings.
Thanks to Hector Pineda and Fabian Jiminez for our posters, banners and pamphlets.
Thanks to Hector Pineda for all the hard work getting paintings out of customs.
Thanks to all the artists who stetched canvasas, hung paintings, set lights etc
Thanks to the donors who helped us financially and the sponsors who helped us in so many ways.
Our community is beautiful!
Liba WS  &  Gabriela Garza Padilla
Setting up the exhibit at the museum La Ensenanza
Paintings not seen in this album will be seen in the next San Cristobal Albums
To see all the paintings right now: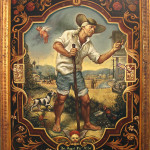 ***
Tags: exhibitions, Mexico